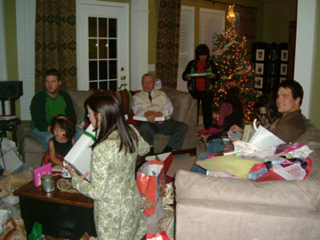 After 95 years, my grandfather (Papou in Greek) went heavenward on December 3, 2011. We received word on Wednesday, November 30th, that his health had taken a turn for the worse. Over the next several days our hearts were heavy in prayer for healing or even wondering if it was his time. He had bounced back several times, so it was hard to know for certain.
On Friday morning I went to early prayer at Destiny Church, where I serve as Executive Pastor. After praying for a while, I felt compelled to read some of the book "The Blessing". I turned to the chapter about blessing your parents. As I read, the presence of the Holy Spirit came on me in a strong way. All I could do is sit there and weep as I considered how blessed I was to have the parents and grandparents I'd be given. In those moments I sensed that it was my Papou's time. After prayer I called my father, Pete, and encouraged him to get a plane ticket for Charlotte, North Carolina, as soon as possible. He and I had arrived a couple hours late several years before when my grandmother, Yiayia, passed. I wanted to make sure that didn't happen again. Since I had a prior commitment on Saturday morning, I couldn't fly out until Saturday about noon. My father called me while I was in the Atlanta airport and let me know that Papou passed with his four children - Pete, William, Maria, and John - by his side.
For the next several days I spent time with my father and family there in Charlotte. I asked a lot of questions about Papou's life and each ones recollection of him. In fact, it was a special time supporting my father in his time of loss. As I heard memorable stories about Papou I would take notes on my iPhone. I wanted to remember this once in a lifetime experience. It was the passing of a generation and it felt significant. I also wanted to make sure I was ready if I was called on to share some thoughts. Sure enough, my Aunt Maria, asked all the grandsons to share at the funeral like we had done for Papou's 90th Birthday Celebration.
So on the morning of Papou's funeral, this is what came to me. I really believe it was a gift from God as I cried and wrote "Man of Honor - Tribute to Theodore P. Thevaos". I've never wrote so easily and freely. I was hoping it would affect family and friends as much as it did me. Sure enough, I received much appreciation and encouragement from many.
Papou's life looked a lot like this:

"Honor your father and mother, which is the first commandment with a promise: that it may be well with you, and you may live long on the earth" (Ephesians 6:2-3)
Family and friends watch out how you honor your parents, you may live to be 95 like our Papou.
This way of honor extended far beyond his important commitment to his parents, to every facet of his life. You see this call to be a man of honor got into everything he was and did.
The word "Honor" in the Hebrew and in the Bible verse I quoted at the outset means "to be heavy, weighty, to honor". I guess that's why we feel such strong emotion when we replay his life story in our minds, of how he touched our lives.
This honorable man was endearingly and honorably called by several names: Theodore, Daddy, Papou, and Great Papou.
A man of honor, honors his parents by caring for them into their old age sacrificing comfort and convenience for the ones who gave you the gift of life. Great Yiayia, Papou's mother, was in good hands. It wasn't easy, but he did what it took to honorably care for his wife and mother often finding himself in the uncomfortable place of Peacemaker.
A man of honor, loves and cares for his wife for better or for worse. Papou always had a way with the women. I guess it's a Thevaos thing! That was to build the ego of all the Thevaos men, as if we needed it. Anyways, He knew how to win Yiayia's heart in the early days of romance and he grew into letting her be her sweet self, which was totally different than his personality. If you don't know or remember his personality, well let's just say the word "Sweet" wouldn't be the word I would choose.
And you know, Nobody ever looks forward to the "worse" part of their wedding vows. In fact, we pray against them. However, troubled days seem to touch us all in this broken world we live in. You never know how you'll respond when trouble comes knocking at your door, but we now know how men of honor respond. They respond in sacrificial love. Any treatments, at any cost, for the one you love the most. They spare no expense and no amount of time to give their soul-mate, their beloved wife, a fighting chance and make them as comfortable as possible until heaven heals all of their wounds. That man of honor is our Papou honoring our Yiayia in her most embattled and difficult hour on this earth.
A man of honor is determined to live a long life so that his children, grandchildren, and even great grandchildren could know their father's love, affection, and desire for them. My cousin, Willie T. and his wife Michelle told me recently, of the joy it was to have Great Papou hold their first born daughter, Vivian. And yes, he still knew how to hold a baby delicately, without dropping her. Good touch Papou!

A man of honor love's his place and his people. You see our Papou believed in staying planted in one place and didn't understand others who weren't. For example, one of his nicknames for my father, Pete Thevaos', family was none other than the Gypsies. If that wasn't enough prodding, he would also remind us how that, even as big as Texas is, it came in a slow second to the Tarheel state. He did think a little of Texas though, but only because guys like Vice President Gardner, LBJ, and some of his kids were from the gun slinging state. Of course, he could never stay long when he'd come to visit. Sometime within the first few days he would start pacing the floor and sensing the need to get back to the people, the trees, and the jukeboxes of Owl Music.
A man of honor has to become strong and courageous in this tough world we live in and he feels the urgency to build strength and courage into his children. Our Yiayia was a nurturer making you feel loved and special. However, our Papou taught us to be strong and courageous with a feeling of protection and provision. He often used, what we all want more of. It was like, magic! It was almost as if he could just make it appear. I know it's often said, "Money doesn't grow on trees, but when it came to our Papou; he seemed to discredit that thought." If his family was involved and they needed or even desired something, he would flash some cash at the drop of a hat. And trust me, his pocket often wasn't big enough to transport the needed currency. But that's OK, he had larger containers. A briefcase, was his container of choice, if you know what I mean. When I see someone carrying a briefcase handcuffed to their wrist, my first thought is Papou's generosity. Generosity to him spelled "LOVE". Generosity is sacrifice of what most people love the most, so in that case I guess he was right. He laid down his wants and desires for his family. All he needed was a decent house and two twin luxury cars. His and hers and he was satisfied. I think those new cars every several years and mink coats for the ladies in his life were his few splurges. Other than that, the Great Depression conformed him to frugality. And let me clarify, His wife and daughters were the ladies in his life. Thank you Papou for being faithful to our Yiayia.
A man of honor doesn't let his family borrow money from him, he ultimately gives it away. I've heard it said, "If you let someone borrow money, you should be ready and willing to lose it." Papou learned that way before we ever did. If he loved you, trusted you, and especially if you were his blood he held his money, which he spent his life earning, openly. I'll always remember how he financed my first car. I needed $5,800 to purchase a 1989 Red Acura Integra. I was determined to work for it and pay him back. Within a few short days after my father, Pete, spoke with him by phone a check for the full amount came in the mail. We purchased the car and as soon as I earned my first $1,000, building a fence, I sent Papou a check and thank you letter in the mail. I thought, "Awesome, I'm 1/6th of the way there." Only to discover within a week I had received another letter from Papou. In it I found the check for $1,000 I had just sent him with a note that read "Paid In Full" and an encouragement to invest that $1,000 for my future. I think all of his family has been honored by Papou's generosity on many occasions and overwhelmed by those words "Paid In Full".
A man of honor believes the country he was born into is the greatest country in the world. Our Papou always thought baseball was the best sport, first and foremost, because baseball was made in America. It was unmistakable that the New York Yankees was his favorite team as he spoke the world of baseball greats like: Babe Ruth, Ty Cobb, and Mickey Mantle. He was convinced America was the greatest country in the history of the world, and yes even better than Greece as much as he loved the place of his ancestry. Unfortunately, he never made a visit back to Greece, but we all know it was in his blood. He proudly wanted everyone to know he was a Greek American. English was his first language and Greek his second. And yes, he made sure everyone knew that every good idea originated from Greece. Sounds like a movie I've seen. And we all know how much he loved American music. It was his entertainment, his business, and to a large degree his life. On more than one occasion I heard him remark that the great Frank Sinatra, "He's ok, but Bing Crosby, I like him, listen to his voice, I think he's got a better voice, it's smoooooth", which led him into joining along with Bing on the radio singing songs like, "I'm Dreaming of a White Christmas". And believe it or not our Papou had a pretty good baritone voice. It was all those years at Owl Music singing and working.
A man of honor has learned to temper his tongue and keep his words on the up. Our Papou had a way of motivating himself and others to have a zest for living. I'll always remember his Mohamed Ali boxing shuffle in the kitchen of Addison Drive. He made us laugh and he still thought he had the moves. I think he chose his words carefully and stayed positive out of survival. He used humor and laughter as a medicine. I guess that's why he never went to the doctor until he was over 90 and never took medicine. I deeply respect how, even though he was a man of few words, he would focus on you as an individual. He would never divulge any information to us about one of his other children or grandchildren. He had a relationship with each of us that was unique, special, and protected.
A man of honor sacrifices his life in defense of his family, his friends, and his country. When duty calls and you're the oldest in the family, you must answer the call. And our Papou did with courage and dignity. He served his role on the team as a gunner in their B-24 Bomber flying missions from England to Germany. His life was in danger many a time and one time in particular as he and his buddies plane was shot down over France. Thank God for his protection and that our Papou was able to parachute to safety. It's amazing how one defining moment in history, can change the course of history. That miracle brought Papou safely home and set him up for marriage to Sara, our Yiayia, and the coming birth of his beloved children: Pete, William, Maria, and Johnny. He was proud of his family. He always wanted to show off his kids and grand kids. He made us all feel special and loved. I'll never forget him taking me on his route to visit a few business locations. We went down the stairs at the bowling alley on Morehead Street only to be warmly greeted by Lula Pappas and her world famous, "Hi hunny!" Then Papou would say with his confident voice and demeanor, "This is my grandson, Ted. He's my name sake." This is how our Papou felt about all his children and grandchildren. He knew he wanted a family and he knew how to build confidence in each of us, once he had us. Good work Papou!
Our will to live, and our Papou had one of the strongest I've ever seen, has much to do with long life. However, let's all remember life is a gift from Almighty God through his beloved Son, Jesus of Nazareth. Because our Papou was a man of honor, honoring God, family, community, and country; our Heavenly Father, the one who desires us from eternity past through all eternity, gave him and us the honor of 95 years of life. As the scriptures say, "In Him we live, and move, and have our being." Wow! What a gift! When you know your heavenly Father loves you and chose to give you life and you also know your earthly father loves you and chose to give, you life, that's a recipe for a blessed life. It's all of this reality that makes us feel the strong emotions we feel today about our Papou and about our lives. If you've been experiencing what I've been recently, It's almost more than our bodies can contain at times. Our souls are being awakened to the wonder, majesty, and mystery of our Great God. God has been good to us my friends, to give us Papou. Today, looking into the future, we feel stronger, safer, prepared, encouraged, accepted, and loved because of the life of honor our Papou lived before us. What an example and what a gift! The best thing we can say is, thank you Jesus!
Finally, together as Papou's four grandsons, we would like to honor and salute our grandfather by wearing his favorite hat. When we wear this, we'll remember how to live life large like our Papou did. We love you Papou and we will honor your memory by being men of honor until we see you again in heaven. Oh and by the way, take it easy on Jesus! He's got ya covered!
(Additional thoughts after funeral)
A man of honor always knows how to look his best. A little olive oil for his health, plenty of Vitalis for his hair, a three piece suit, wing tipped shoes, a trusty hat and a smile, and he was ready to impress. Whether it was working early or late, the Greek church on Sundays, or his favorite restaurants; Open Kitchen, The Cupboard, or Valentino's - didn't matter - our Papou always looked his best. And if that wasn't enough, his vehicle would have been the only luxury car in Charlotte with a rickety set of tools in the trunk. Our Papou was ready at a moments notice to bring a jukebox or pinball back to life again. The people were happy and the party would go on. I guess we got our fix-it skills from you, Papou.
A man of honor is a man of ideas and passion. I've heard it said, "If people don't know your passion, you probably don't have one." Our Papou was always learning about the world he lived in. The volumes of National Geographic magazines, stacked to the ceiling, in the basement of 4600 shouted out that fact. And he probably loved history so much, because he was a history maker himself. His desire to learn made him a man of ideas and passion. He was going to tell you what he thought, whether you were ready for it or not. And he was definitely, politically incorrect. He seemed to take pleasure in watching peoples reaction to his outlandish comments. He lived for the shock effect. I remember how my family could predict his first comment after traveling 20 plus hours from San Antonio to Charlotte to see him and our Yiayia. It never failed, "O Lord, Give me two Tylenol". He'd say anything, even if he didn't really mean it, just to get a laugh. However, when you could find him serious enough, he was committed to giving his children freedom to form their own opinions and make their own decisions. I remember our Papou on several occasions saying, "That's enough, you don't have to tell me all that." He knew he was much more effective, influencing the ones he loved the most, with freedom and independence. Thanks Papou, for honoring your children with the support to choose their callings and commitments.
A man of honor embraces a good God of mystery. We all ask the question, "why". All of life is seeking answers to these questions. Why were we born into the country and family that we are? Why did God make us the way he did? Why can't we change things about ourselves or about others for that matter? Why is there evil in the world? Why isn't life fair? Why do those we love the most die, before we're ready to let go? I'm sure thoughts like these must have rushed through our Papou's mind, as he learned that he was living in a Day of Infamy. It was December 7th, 1941 and life was looking up as he was driving a brand new car and taking in a rousing football game with our Yiayia. Suddenly, joy turned to an aching sadness as they both learned, over a loudspeaker, that it could be one of their last special moments together. Duty to defend home and country was calling. A void was already there from the loss of his father, Pete, when our Papou was only a young 16 years old. Would he have the same fate as his father or would the goodness of God bring him home to his sweetheart Sara and his widowed mother Anna? Our country was kind enough not to take both of our Great Yiayia's sons, so Uncle Gus and Aunt Christina waited in wonder. Our Papou sent money home to take care of his family and the lingering question of his mortality was eventually answered for a season. If he could survive a cruel war, he could live that long life, he desired, for the sake of those he loved the most. It's reassuring to know that our Papou's home going celebration was held on, none other than, December 7th, Pearl Harbor Day. How fitting a farewell, for now, to one of America's war heroes. Yes, God in his mystery may leave us with some unanswered questions, but he sure knows how to build hope and courage into us at the most needed moments and in the simplest of ways. Rest in peace Papou, all of your questions are now answered in the presence of Jesus, your loving Savior.
In God's providence, it just so happened that, Papou's funeral service was held on Pearl Harbor Day, December 7, 2011. Not too shabby for a World War II veteran who was part of the greatest generation.
I remember my father, Pete Thevaos, driving me to the Charlotte Douglas Airport the day after the funeral. I was headed back to San Antonio, Texas, to return to life with my family. In an emotional moment, on the Billy Graham Parkway, the thought came to my father and he said, "Yesterday was Pearl Harbor Day. Papou's funeral was on Pearl Harbor Day!" Tears weld up in both of our eyes with the feeling that God had shined his face on an honorable World War II veteran.